Once in a while, a program may stubbornly refuse to uninstall normally. Many programs will include with their installation an uninstall option located either within the start menu shortcut, on the desktop or within the program folder. If a program won't uninstall the normal way, there are simple steps you can take to remove the application completely.
Using Other Methods to Remove Programs
One way to make sure a program is uninstalled is to use the Add or Remove Programs tool in the start menu:
Click Start (Windows Key + X in Windows 8 ) and click Control Panel.
Click Add or Remove Programs on the list of system options.
After the list of installed programs loads up, click on any program you wish to uninstall and click on the remove button below the list.
A prompt will ask you to confirm your choice and you can follow through with the removal.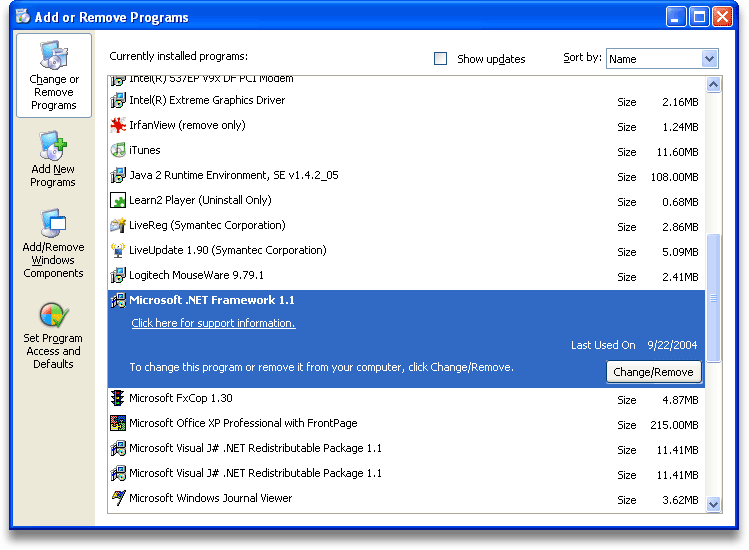 A list of programs that are installed in the Add or Remove Programs window, with modification options.
If this fails to remove a program, or if it can't seem to locate the program at all, searching within the C: drive for the folder containing the program's files is possible. Sometimes unwanted programs acting as viruses or spyware may go hidden, so temporarily making hidden files visible is advisable. To do this, simply open up the Control Panel, click Appearance and Personalization, and under Folder Options, click Show Hidden Files or Folders. Then uncheck the checkboxes titled Hide extensions for known file types and Hide protected operating system files. Then click Apply and the changes will be applied.
By making these files and folders visible, you can see every file on your system and modify them however you want.
Safe Mode
Starting the computer in Safe Mode can make sure no changes to your computer are actively made, as you modify files when a program won't uninstall. Safe Mode prevents any intrusions from getting into the PC, by disconnecting from the Internet and only allowing access to files that affect the system. If a program won't uninstall and it's a form of malware or other unwanted application, it can be removed safely this way.
To start Safe Mode:
When booting the computer, at the first screen before Windows login hold down F8 (Shift + F8 in Windows 8 )
Using the arrow keys in the boot menu, highlight and click enter over the safe mode option. Choose safe mode without networking
Log into the computer normally after the computer starts up
Running a virus scan with your antivirus is best to do in safe mode as it prevents any intruders connecting to your computer and malware from multiplying threats during the scan, meaning the scan is much more thorough
It's also good to now remove any files that look suspicious or that you don't need
Try to uninstall the offending program from Safe Mode
Shut down the computer when done removing the program and performing a virus scan in order to use the computer in its normal settings
The desktop of a PC running Windows 7 in safe mode.
Once you reboot or simply shut down the computer after using safe mode, the next time the computer boots it will start normally automatically.
You can also try a third-party app like Revo Uninstaller to help remove all traces of an app from your PC.
When a program won't uninstall, it can be a hassle that's far from needed in any computer system. Thankfully, there are many steps that can remove it easily. Sometimes all it takes to remove a program is some exploration of the hard drive.